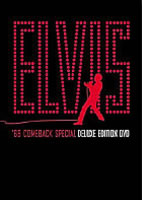 On June 3, 1968 Elvis began working with Binder and Howe at their offices. As they got to know Elvis better and saw how deeply he was affected by the June 6th death of Robert Kennedy, Steve Binder was inspired to ask songwriter Earl brown, who was writing arrangements for the show, to write an inspirational song for the finale. That song would become the much loved "If I Can Dream." ("...if I can dream of a better land where all my brothers walk hand in hand....").

On June 11th, Elvis met costume designer Bill Belew. Mr. Belew graduated from New York's The Parson's School of Design. He served in the military in Korea and began designing for salons in Japan. He worked in retail until he got involved in designing for TV in the 1960s and would also eventually design for a number of theatrical productions as well including operas and ballets. He had worked previously with Steve Binder on the Petula Clark special. When Mr. Binder asked him to design for Elvis, it was the beginning a relationship that would last for the rest of Elvis's life. Belew designed Elvis' famous jumpsuits of the 1970s as well as much of his personal wardrobe. It was Bill Belew who envisioned Elvis in black leather with the high Napoleonic collar. As chronicled in Peter Guralnick's book "Careless Love": "Elvis listened, nodded, and agreed to virtually every suggestion that Belew made. The designer was dumbfounded. He had never encountered such a lack of ego in a big star before. The one subject about which they had any disagreement was the gold suit that Belew designed to symbolize success, in homage to the suit that Colonel Parker had had made up for Elvis in 1957. Elvis never explained his opposition but was clearly embarrassed by it, and in the end they worked out the same compromise solution that he had agreed to in the fifties: he would wear the gold jacket with a pair of black tuxedo pants."

Bill Belew has designed for many stars including Lena Horne, Ella Fitzgerald, Gloria Swanson, Lynn Redgrave, Florence Henderson, brooke Shields, Jaclyn Smith, Joan Rivers, Gladys Knight, Dolly Parton, Gloria Estefan, Milton Berle, Doc Severensen, Mac Davis, Ronnie Milsap and The Osmonds among others. His work garnered him a 1980 Emmy Award nomination for Outstanding Costume Design for the "The Carpenters: Music, Music, Music". He recently has worked on the TV series "Your Big break."
In 1968 Elvis Presley was breathtakingly handsome and his vocal style was honed to perfection. It was the task of art director Eugene "Gene" McAvoy to design the showcase that would frame Elvis visually for the audience. From the opening scene of Elvis and the 89 guitar men in silhouette (or 89 boys as they were called in the script) to the finale with Elvis standing in front of his name in lights, Mr. McAvoy provided sets that complimented the star and the story. He continued designing for TV specials and received an Emmy nomination in 1976 for his work on Mary Tyler Moore's "Mary's Incredible Dream."

Claude Thompson did double duty as the makeup artist and one of the choreographers. His makeup talents were used in the 1956 movie "Around the World in Eighty Days" and in TV series such as "The High Chaparral" and "Little House On the Prairie." While his choreography can be seen in the 1976 movie "King Kong" and the 1985 movie "The Color Purple."

Jaime Rogers was the other choreographer and he too is diversified in his talents working in the industry not only as a dancer and choreographer, but as an actor, director and producer. His dancing talents have been showcased on TV shows such as the 1976 special "Mary's Incredible Dream" for which he received an Emmy Award nomination and in movies such as "West Side Story" and "Caddyshack II." The famous tall blonde dancer that Elvis flirts with in the bordello scene was Susan Henning and you may also recognize her as the mermaid in Elvis' movie "Live A Little, Love A Little".

Elvis worked with composers Billy Strange and Mac Davis in the movie "Live A Little, Love A Little." Their song A Little Less Conversation had been used in that film and was for a time considered to be used in this TV special. It was the version recorded for this special that was used for the highly successful 2002 remix that has since been used in movies and as the theme song for the TV series "Las Vegas." Billy Strange and Mac Davis wrote "Nothingville" and "Memories", both of which were used in the 1968 TV special. Mr. Strange would go on to work with Elvis again in the movies "Charro!" and "The trouble With Girls." They also shared another tie as Mr. Strange was at one time married to Joan O'brien, Elvis' leading lady in "It Happened At The World's Fair."

The musical director was Billy Goldenberg who would go on to work with Elvis on the film "Change of Habit." His credits today include over 160 TV series, specials or mini-series that he has composed for. He has been nominated eleven times for Emmy Awards winning one for the 1978 mini series "King" and he has been the musical director for specials with Barbra Streisand and Diana Ross as well.

Elvis began rehearsals on June 17th, becoming so immersed in the project that he literally moved into his NBC dressing room for the duration, even sleeping there. It was after rehearsals one night that Steve Binder came upon Elvis and his friends in his temporary home, doing what Elvis did naturally to relax - laughing and jamming.
It was then that Mr. Steve Binder had the idea to add a jam session to the actual special. His first thought was to film it in the dressing room but later changed the location to an informal gathering with an audience. This portion has since become known as the two sit-down shows. Joining him on stage were his original side men Scotty Moore and D. J. Fontana, and his friends Charlie Hodge, Alan Fortas and Lance LeGault.

Lance LeGault had worked with Elvis for years as his movie stand-in and often times fight/stunt choreographer. He has worked on many films and TV projects and recently was the voice of Junior the buffalo in the animated "Home on the Range." He can also be heard as the narrator of the Graceland mansion audio tour.

Recording sessions at Western Recorders began on June 20th. The musicians used on this special were some of the best in the business, many were a part of Phil Spector's famous "wrecking crew".

On guitars were Tommy Tedesco, Mike Deasy and Al Casey. It was actually Al Casey's beautiful red Hagsrom guitar that Elvis used in the opening scenes. Bones Howe had spotted it in Mr. Casey's instrument trunk and thought that the bright red guitar with its gold hardware would be perfect for the scene. Hagstrom's were made in Alvadalen, Sweden between 1958 and 1983 and were known for their fine quality. This particular instrument is now owned by a casino corporation out of Illinois.

Charles Berghofer played bass as did Larry Knechtal, who also played the keyboards. Don Randi was on piano. Hal Blaine, who was inducted into the Rock and Roll Hall of Fame in 2000 as a sideman, played the drums. John Cyr and Elliot Franks provided percussion. Frank DeVito played bongos. Tommy Morgan was on the harmonica.

Backup vocals were by the Blossoms: Darlene Love, Fanita James and Jean King. It is Jean King that we hear sing "Sometimes I Feel Like A Motherless Child" in the opening of the gospel production number. There were other backing vocalists as well.

Billy Goldenberg conducted an orchestra of strings and horns, all of which added to the final product.

On June 26th. there was an on-set birthday party for Col. Tom Parker. Colonel was given an autographed portrait of Executive Producer Bob Finkel dressed as Napoleon. The portrait is still a part of the Colonel's collection in the Graceland Archives. Elvis also sang for the Colonel's pleasure a parody of "It Hurts Me" written for the occasion by Chris Beard and Allan Blye. The new version of the song went:

"It hurts me to see the budget climb up to the sky. It hurts me when Finkel gives me trouble, when I see all my money go just for one g---damned ol'TV show. It hurts me the way that Finkel spends my dough. The whole town is talkin' they're callin' me a fool for listenin' to Binder's same ol' lies. Finkel calls me, says I've got no choice then hangs up the phone in that damned Rolls Royce. It hurts me when my tears start to flow, they promised me sure if I would give in that I would-that I would never go wrong, but tell me the truth is it too much to ask for one lousy tired ol' Christmas song...?"

By June 27th, rehearsals were winding down and the taping of the production numbers had begun. Also that evening there were two sit-down jam session shows taped. On June 29th they shot the two stand-up shows. On Sunday, June 30th, Elvis completed taping the "If I Can Dream" finale. Physically and emotionally spent, Elvis then left for a week's rest in Palm Springs.

On September 11, 1968 "Variety" announced that the bordello scene had been cut from the TV special, citing it had been passed by the NBC censors but the sponsor Singer had requested that it be removed.

The "Elvis" special aired on December 3rd. at 9:00 EST and was seen by 42 percent of the viewing audience, making it the number one show for the season and giving NBC its biggest ratings victory of the year. It received rave reviews from the critics and Elvis was indeed back on top!

Top of page |