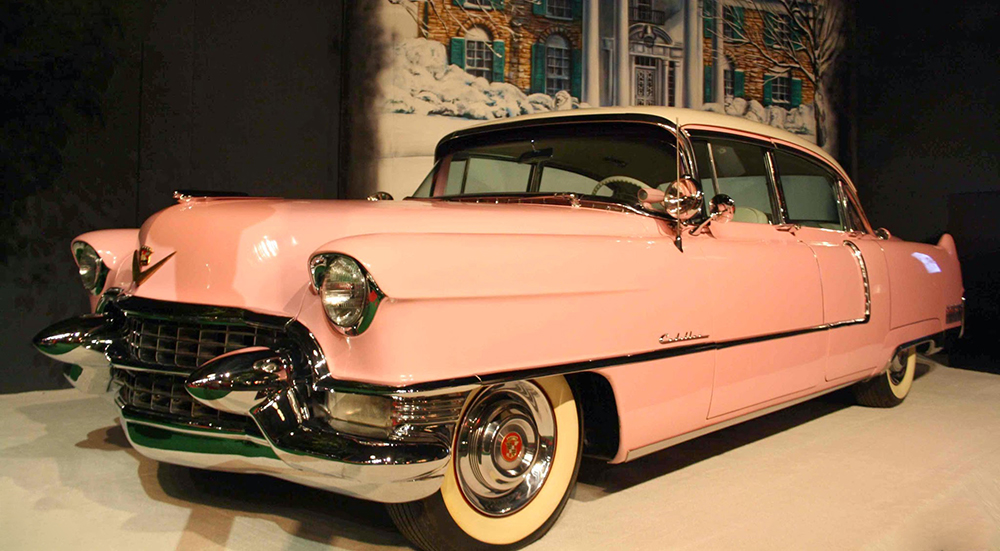 The Pink Cadillac
The story behind the Pink Cadillac (65 years ago) In early 1955, Elvis bought his first Cadillac, a 1954 Fleetwood Series 60, which had the color pink.
The car provided transportation for Elvis and the Blue Moon Boys, but after a brake lining failure, it was destroyed in a fire on the road between Hope and Texarkana, Arkansas on June 5, 1955.
On July 5, 1955, Elvis bought a new Cadillac Fleetwood Series 60 in blue with a black roof.

After naming a Pink Cadillac in the song "Baby, Let's Play House," the first song Elvis recorded on a national chart that reached number 5 on the Billboard Country Singles chart in July 1955,
Elvis had the car repainted . van Art, a neighbor on Lamar Street. Art designed a custom pink color for Elvis that he called "Elvis Rose", but the car kept its black roof. When the car was ready,
Elvis gave it to his mother Gladys as a present. Mrs. Gladys Presley never had a driver's license, and Elvis drove most of 1955–56 with members of his band.

On September 2, 1955, Scotty Moore was driving the car in a vehicle that passed a pickup truck in Texarkana, Texas, causing $ 1000 damage.
After signing his contract with RCA in November 1955, Elvis had the trim replaced, the bodywork retouched and the roof painted white in March 1956.
(As shown in the book "A Boy from Tupelo", from FTD / 2012, in 1955 the Cadillac already had the white roof). Upon his return from military service to Germany in 1960,
Presley lent the car to his US Army buddy, Joe Esposito, after purchasing a Cadillac Coupe de Ville with a white and pink roof.

The original pink Cadillac remains on permanent display at Graceland, previously under a carport for years, and now resides in the car museum.
The car was returned to the driveway of Graceland in June 2006, during the visit of President George W. Bush and Japanese Prime Minister Junichiro Koizumi.