Private Presley 53310761- In The U.S. Army 1958-1960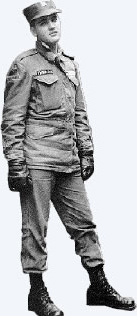 PRESLEY 53310761
January 19, 1953,
Elvis registers for the U.S. Selective Service System. Under the draft system, young men of good health were expected to be available from age 18, to serve in the military for two years of active duty and then four years in the reserves.
January 4, 1957 Kennedy Veterans Hospital for an Army pre-induction physical.
January 8, 1957,
on his twenty second birthday, the Memphis Draft Board held a press conference and announced Elvis would be classified 1A and would probably be drafted sometime that year. With the news of Elvis' forthcoming induction, the Navy and the Air Force offered bids for his services - the Navy offering to create a specially trained 'Elvis Presley company' and the Air Force thinking it would be good for him to tour their recruiting centers. Elvis turned down their offers, not wanting any special treatment. Elvis was going to serve like a regular G.I.
Elvis Presley 1958 January 8,
Eight-year-old Mary Kosloski had a date with Elvis Presley Jan. 8, 1958, and he kept her waiting for more than two hours. The Collierville girl, who was the national March of Dimes poster child in 1955, seemed to forgive all when Elvis appeared and told her: 'If you were 10 years older, honey, I wouldn't let you go'. The pair were photographed with teddy bears and pandas Elvis was sending to the National Foundation for Infantile Paralysis for auction during an upcoming fund drive.

January 13, Elvis arrives in California to begin pre production on his fourth movie, King Creole. The movie, many consider to be his best, was adapted from the popular Harold Robins novel 'A Stone For Danny Fisher' and originally intended for James Dean. The film is directed by Michael Curtis and Elvis' costars are Dean Jagger, Carolyn Jones, Walter Matthau and Dolores Hart.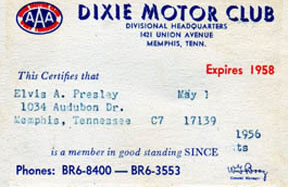 Elvis' Dixie Motor Club AAA membership card, issued in May of 1957. Even though Elvis purchased Graceland earlier that year, the card mistakenly had his Audubon Drive address printed on it. January 15, 1958 Radio Recorders, Hollywood, California Elvis works on the soundtrack for 'King Creole' at Radio Recorders. Jerry Leiber and Mike Stoller who have written several songs for the movie are in charge and Elvis appreciates their input.

Hard Headed WomanJ2PB 3603-10
TroubleJ2PB 3604-05
New OrleansJ2PB 3605-05
King Creole (Alternate Master) J2PB 3606-18
Crawfish J2PB 3607-07

January 16, 1958 Radio Recorders, Hollywood, California
Elvis continues recording from 9.00am to 5.30pm.

Dixieland Rock J2PB 3608-14
Lover Doll J2PB 3609-07
Don't Ask Me Why J2PB 3610-12
As Long As I Have You J2PB 3611-10
Steadfast Loyal & True (Movie Version) WPA5 2586-06
As Long As I Have You (Short Movie Version)
As Long As I Have You (Long Movie Version) WPA5 2509-08

January 23, 1958 Radio Recorders, Hollywood, California
Elvis re-records Leiber and Stoller's 'King Creole' now being strongly considered as the title track for the movie.

King Creole (Revised) J2PB 3612-13
Young DreamsJ2PB 3613-08
King Creole (Main Title - Instrumental)
My Wish Came TrueJ2PB 0178-NA
Doncha' Think It's TimeJ2PB 0179-NA

Elvis wants Leiber and Stoller present at his next session and tells Tom Diskin he is prepared to reschedule if necessary. Tom Diskin informs Steve Sholes in two separate letters dated January 24 and 29 of Elvis' wishes.
RCA was desperate to get Elvis into the recording studio before he was inducted so RCA could be assured of a steady stream of new releases available during his two year tour of duty.

February 1, 1958 Radio Recorders, Hollywood, California
Elvis begins his last scheduled recording session prior to induction without Leiber and Stoller, whom Steve Sholes has been unable to contact. Ernst Jorgensen in his book A Life in Musicsays that Jerry Leiber, 'whose innovative arranging skills Elvis was counting on for the session', was in a New York hospital with pneumonia and couldn't even consider traveling to Los Angeles. Elvis' first reaction was to postpone or even call off the session, but with induction imminent and the RCA obligation looming overhead, he returned to the studio with no real outside help. Elvis' appears to have become dependant on Leiber and Stoller, when previous RCA session prove this unnecessary. Elvis works from 10.00am to 7.00pm but gets nowhere with 'My Wish Came True' then spend forty-eight takes on 'Doncha Think It's Time' trying to get a satisfactory take. Dissatisfied with that he then tried Hank William's classic 'Your Cheatin' Heart' but again he is not satisfied with the result. The last song of the day is 'Wear My Ring Around Your Neck', but Elvis struggles to cut what is intended to be the A side of his next single. My Wish Came True (Remake) J2WB 0178-NM Doncha' Think It's Time J2WB 0179-SP Your Cheatin' Heart J2WB 0180-10 Wear My Ring Around Your Neck J2WB 0181-22

Sophia Loren and Elvis met each other once - in February of 1958 at Paramount Studios while Elvis was filming King Creole. Sophia flipped over Elvis!

February 11, 1958 Radio Recorders, Hollywood, California
Elvis records soundtrack material on Paramount's sound stage. he re-records 'Steadfast, Loyal and True' and works on the Ben Weisman song 'Danny' which remains under consideration for the film's title song.

Danny WPKM 8123-10
Steadfast Loyal & True (Solo) J2PB 4226-NA

February 26, 1958 Radio Recorders, Hollywood, California

There is a brief recording sessions near Radio Recorders at which Elvis overdubs guitar-slapping and piano on 'Wear My Ring Around Your Neck'

Wear My Ring Around Your Neck - Guitar Back Beat J2WB 0181
Wear My Ring Around Your Neck - Piano overdub J2WB 0181
March 3, 'King Creole' Filming begins in New Orleans'.
March 11, Elvis visited the Moulin Rouge club in Hollywood.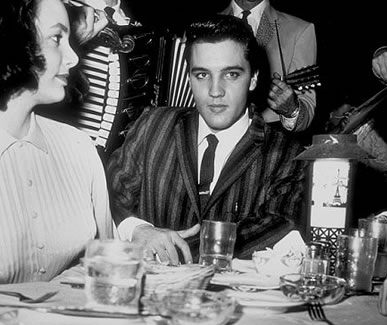 Moulin Rouge Club Hollywood 03-1958
Kitty Dolan, Elvis Presley Frank Senne's Moulin Rouge club in Los Angeles, March 11, 1958

March 14, After returning to Hollywood on the 12th, Elvis and party take a train to Dallas on the 14th and then set off on the 500 mile dive to Memphis,
renting a string of Cadillac's.

March 19,Elvis and Anita Wood looked at new auto-mobiles.
Elvis is spending his last week at home before induction into the army March 24. In a cleaver marketing move, Elvis is 'commissioned' as a 'Kernel' by popcorn tycoon Jim Blevins on the pretext that his pictures have sold more popcorn than any other films in 1956 and 1957. So now we have 'Kernel' Elvis Presley :-) - On March 8, 1961, Elvis addresses the Tennessee State Legislature and accepts the title of 'Honorary Colonel'.

March 21,Elvis buys a 1956 Ford for Anita Wood as a going-away present.

March 24, 1958, at 6:35 AM, Elvis, accompanied by his parents and a group of family and friends, reports to the Memphis Draft Board. From there, he and twelve other recruits were bused to Kennedy Veterans Memorial Hospital. There, Elvis is assigned army serial number 53 310 761, and after his physical is put in charge of the group. After being processed and sworn in, Elvis said his good-byes and Private Presley was bused with the others from Memphis to Fort Chaffee, Arkansas for further processing.

Gladys and Vernon at Graceland + Army Induction - March 24, 1958

March 24, 1958 Elvis Army Induction (01:12) - Silent

Army Swearing In March 24, 1958 (00:30) Above, Elvis' Army Swearing In - Directed by Mayor Elbert Turner - Memphis Tennessee March 24, 1958.

March 25, At Fort Chaffee, Elvis received his famous G.I. haircut and coined the phrase 'Hair today, gone tomorrow', in a comment to the news media.
He was assigned to the Second Armored Division's 'Hell On Wheels' unit (formerly led by General George Patton) and was stationed at Fort Hood, Texas.
Photo right - Kitty Dolan, Elvis Presley Frank Senne's Moulin Rouge club in Los Angeles, March 11, 1958

Within days, Elvis' manager Colonel Tom Parker received 5,000 pieces of mail sent to Elvis at Fort Chaffee and mail continued to pour in for the famous soldier.

Colonel Parker and Elvis having an army breakfast at Fort Chaffee, March 25, 1958.

May 28, Private Presley has earned a marksman's medal with a carbine and achieved 'sharpshooter' level with a pistol and has been named acting assistant leader of his squad.
May 31, The Colonel and Anita arrive at the gates of Fort Hood at 6.00am to pick up Elvis, Rex mansfield and William Norvell for a well deserved two week leave. Elvis arrived home at Graceland late in the evening.
June 1, Elvis is home at Graceland on furlough and enjoys some time with family and friends.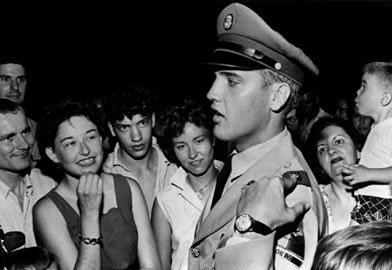 Elvis explains the insignia on his uniform to fans at the gates of Graceland Sunday evening June 1, 1958
RCA had continued to push for more sessions before Elvis shipped out to Germany in September, and the Colonel reluctantly agreed to both a recording session and a photo session during this two week furlough.

Nashville Sessions
June 10, Elvis managed to squeeze in a quick Nashville recording session, his last session until the spring of 1960 after his discharge from active duty.
June 10, 1958 RCA Studio B - Nashville, Tennessee
I Need Your Love Tonight J2WB 3253-18
A Big Hunk O' Love J2WB 3254-SP
Ain't That Loving You Baby J2WB 3255-04
Ain't That Loving You Baby (Fast Version) PPA5 2672-SP
(Now And Then There's A) Fool Such As IJ2WB 3256-09

June 11, 1958 RCA Studio B - Nashville, Tennessee I Got StungJ2WB 3257-24

At this session, one of his best, Elvis recorded 'I Need Your Love Tonight', 'A Big Hunk O' Love', 'Ain't That Loving You Baby', 'Ain't That Loving You Baby' (Fast Version), '(Now And Then There's A) Fool Such As I' and 'I Got Stung'. All except 'Ain't That Loving You Baby' were released in 1958 / 1959 with great success. 'Wear My Ring Around Your Neck'#3 /'Doncha' Think It's Time'#21 April '58 'One Night'#4 /'I Got Stung'#8 October '58 '(Now And Then There's A) Fool Such As I'#2 /'I Need Your Love Tonight'#4 March '59 'A Big Hunk O' Love'#1 /'My Wish Came True'#12 June '59
('My Wish Came True' was from the September '57 sessions.) June 14, Elvis returned to Fort Hood for ten weeks of advanced tank training.


June 26, Elvis' mother and father moved temporarily to Killeen, Texas near the base. Elvis applied for and received permission to live off base with them - off-base living being an option any G.I. had the option of applying for. Elvis obtained a three-bedroom trailer home and moved there with his parents, grandmother Minnie Mae, and friend Lamar Fike. July 1, When the trailer became a little too cramped, following the arrival of cousins Gene and Junior Smith, Elvis simply rented a house where he could stay with his family on the weekends while undergoing advanced tank training during the week. Friends would drop by, and Gladys would prepare food for everyone.

July 2, 'King Creole' opens in theaters nationwide.
August 8, All though the summer Gladys has been feeling ill. As her condition worsens Elvis insists that she do something about it, putting his parents on a train to Memphis so that she can see her personal physician, Dr. Charles Clarke.
August 9, Responding to an 11.30am emergency call, an ambulance transports Mrs. Presley from Graceland to Methodist Hospital, where her condition is listed as grave. Elvis completes Advanced Tank Training.

August 11, Elvis commences his Basic unit Training.

August 12, After more effort than it would take for any ordinary soldier, including calls from Gladys' Doctor to military personnel in Washington and Elvis' desperate threat to go AWAOL, Elvis is finally granted emergency leave, flying from Fort Worth to Texas with Lamar Fike and going straight to the hospital.
Presley: August, 1958 - Methodist Hospital

August 13,Vernon remains at his wife's side throughout the night, while Elvis after spending the evening at home, returns in the morning and again in the afternoon,
not leaving until close to midnight.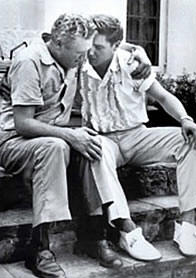 August 1958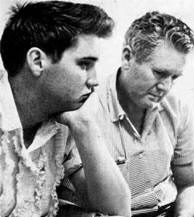 August 1958
August 14, At approximately 3.15am, with her husband at her side Gladys Love Presley dies at the age of 46.

Both Elvis and Vernon are inconsolable. In the early afternoon with hundreds of fans at the gates, Gladys is brought home to Graceland. Elvis wants the funeral conducted at the house but the Colonel convinces Elvis that security will not be able to be effectively maintained and arrangements are made to have the service at The Memphis Funeral Home.

August 15, Gladys funeral is held at 3:30pm. Elvis sobbed hysterically while Gladys' favorite gospel group, the Blackwood Brothers, performed at the service in the Memphis Funeral Home, and he was equally inconsolable at her Forest Hill Cemetery grave site, crying out, 'Oh God, everything I have is gone'. Elvis leans over the grave, crying out, inconsolably, 'Goodbye, darling, goodbye. I love you so much. You know how much I lived my whole life just for you'. The mourning continued through the next few days as Elvis was granted extended leave. Evidently his fans were grieving too -- they sent him more than 100,000 cards and letters, around 500 telegrams, and more than 200 floral arrangements to express their sympathy for his loss.
Still, even though it would never be the same, life had to carry on.
August 16, Elvis insists upon attending the funeral of Red West's Father who died the previous day. later in the afternoon Elvis insists on visiting his mothers grave.
August 18, Elvis' seven-day leave is extended for five more days, during which the Memphis Highway Patrol tries to cheer Elvis up by giving him helicopter rides over Graceland and the city.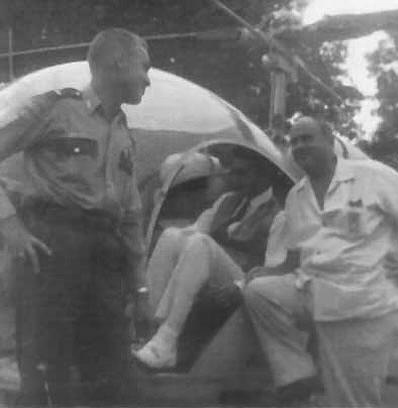 Army Helicopter
The Memphis Highway Patrol tries to cheer Elvis up with helicopter rides over Graceland
August 24, Elvis returns to Fort Hood, leaving instructions that nothing is to be altered in his mothers room while he is gone.
September 11, Elvis is assigned to the 1st Medium Tank Battalion, 32nd Armor, 3rd Armored Division in what was then known as West Germany.
September 19, Elvis leaves Fort Hood on a troop train bound for the Brooklyn Army Terminal in New York.
September 22, The troop train arrives in Brooklyn at 9.00am.
Along the way, Colonel Tom Parker organized a press conference when Elvis' troop train arrived in Brooklyn, New York, at which he answered questions about his army duty, his music, and his Mom. He offered a heartfelt account of his continued mourning to the assembled reporters: 'Everyone loses their mother, but I was an only child, and Mother was always right with me all my life. And it wasn't only like losing a mother, it was like losing a friend, a companion, someone to talk to. I could wake her up any hour of the night if I was worried or troubled about something ...she'd get up and try to help me'. After the press conference Elvis boarded the U.S.S. Randall- he walks up the gangplank of the USS Randall eight times, toting a borrowed duffel bag, so the assembled photographers and camera men can all get a good shot.
U.S.S. Randall On The Way To Germany
During the crossing Elvis and Charlie Hodge became fast friends. They bunked together at Elvis' request and Charlie cheers him up with jokes and tales of show business. Together they are put in charge of a shipboard talent show in which Elvis plays piano in the back up band (at the Colonels explicit instructions, he does not sing) while Charlie acts as MC.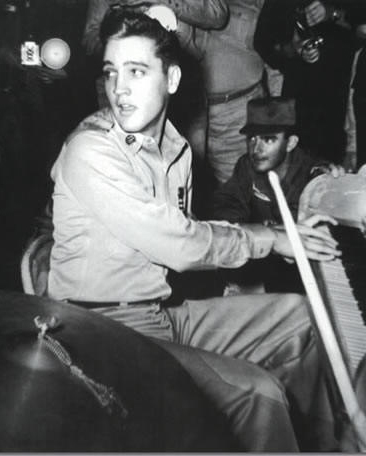 Army Piano
Rockin' The Randall - Elvis plays piano on the U.S.S. Randall Arriving in Germany on and October 1, Elvis' unit was stationed in Friedberg, Germany. Upon arrival he was assigned to the Ray Caserne barracks. He served in Company C, a scout platoon. In West Germany, there was another press conference and further meet-and-greets during the first few days. Vernon and his mother, Minnie Mae -- whom Elvis had affectionately called 'Dodger' ever since she had ducked away from a ball he had thrown at her as a child -- set up residence with Elvis and his friends Red West and Lamar Fike in a couple of hotels: one in Bad Homburg, near Frankfurt; the other in Bad Nauheim, about 20 minutes from the base.
Above, Private Elvis Presley aboard the troop transport USS General George M. Randall (AP-115) in 1958. He and 1,169 other American soldiers were on their way to Bremerhaven. Elvis would rise every morning at 5:30, eat the breakfast Dodger had prepared for him, and leave for base by 6:30 in a black Mercedes taxi, before returning for lunch and dinner. The only exception was Friday, when Elvis and his fellow soldiers had to stay late into the evening, cleaning the toilets and their barracks for weekly inspection the following morning. It had been a long time since the King was obliged to do any such chores, yet he mucked in with the other soldiers and did his best to be perceived -- during the day, at least -- as just a regular guy.Some evenings, Elvis and his friends surreptitiously went to the movies -- sneaking into theaters after the lights went down and leaving just before the final credits to avoid being noticed -- and even to a couple of Bill Haley concerts. Elvis also dated a few girls while keeping in regular phone contact with girlfriend
Anita Wood back in America.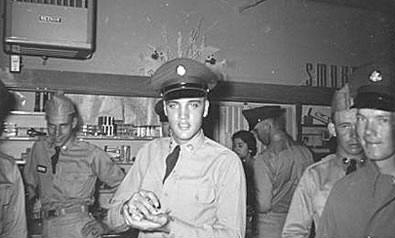 U.S.S Randall
Elvis Presley at Ray Barracks, Germany,
October 2-3. 1958 Elvis Presley at Ritters Park Hotel in Bad Homburg, Germany,
first weekend of October 1958 Colin Powell on Elvis Presley the soldier and patriot The G.I. Blues of Elvis Presley October 23, Elvis attends the Bill Haley performance in Frankfort and visits Haley backstage.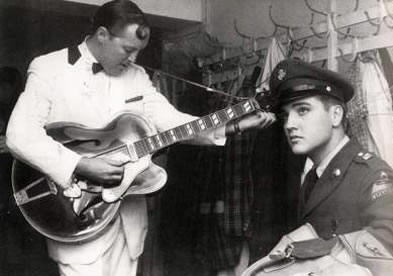 Bill Haley 1958
Elvis Presley and Bill Haley backstage - Frankfort October 23, 1958

October 28, Obviously very homesick, Elvis writes to Anita Wood. He describes himself as a 'lonely little boy 5000 miles away' and that he would never love anyone else in his life as he loved her. Elvis adds that, 'he looks forward to their marriage and 'a little Elvis'.

October 29, Elvis attends another Bill Haley concert in Stuttgart. November 3,Private Presley with Company C, arrives in
Grafenw�hr on the Czech border for field exercises, where they remain through November and much of December.
Elvis is promoted to Private First Class for his end devours in field exercises.
Lamar Fike One night some military genius decided to post Elvis on guard duty. That was completely fair, of course, but also seriously dumb. Because Elvis was huge in Europe and the fans must have had some kind of radar, because whenever Elvis was exposed where the public could get him, they appeared in droves. And this night a huge crowd gathered, with Elvis doing guard duty at some gate. There he was standing like he was supposed to, but surrounded, absolutely surrounded by hundreds and hundreds of fans. It took platoons to rescue him. That was the last guard duty Elvis pulled.



Elvis' army MOS was tank gunner. Which I guess, looking back, was a pretty appropriate assignment. Elvis loved guns, and these were big guns. But there was a problem, because those guns were loud. And one day Elvis came home and I asked him how it went that day and he walked right on past me. I followed him into the bedroom and said, 'Hey, didn't you hear me?' 'What are you talking about?' Elvis answered, and I realized he hadn't heard a word I'd said. I asked him if he was all right and he said, 'My ears are ringing so loud I can't even hear'. I immediately got Colonel Parker on the phone in the states and told him we had a problem.
A big problem. Colonel Tom knew a guy at the Pentagon, and he just wore this man's butt out until they reassigned Elvis out of that damned tank.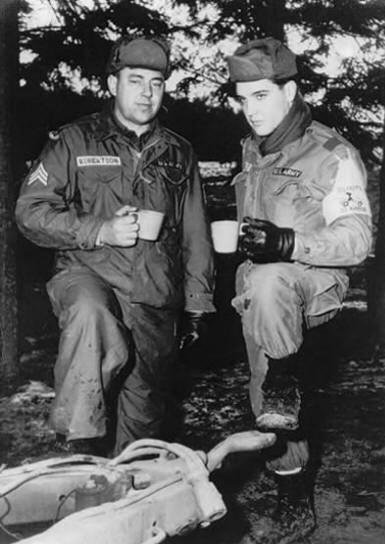 Presley: Grafenwoehr November 28, 1958
Private Elvis Presley in Grafenwoehr - November 1958

December 20, Elvis returns to Bad Nauheim at the conclusion of maneuvers to spend the holiday season with family and friends, he also spent part of Christmas Eve helping to decorate the company's Christmas tree.

December 21, Elvis leases a white BMW 507 sports car.

December 25, Elvis' first Christmas in Germany.

December 27, Elvis attends the Holiday on Ice Show in Frankfurt.
Elvis Presley 1959
Top of Page
Then, at the start of January 1959, one of the girls whom Elvis had briefly dated, 19-year-old Elisabeth Stefaniak, moved into the Hotel Grunewald with him and his inner circle, having accepted an invitation to work as his secretary. It was particularly handy that, courtesy of her German mother and American stepfather, Elisabeth was bilingual. So, installing herself in a corner room at the hotel, she answered his fan mail and became romantically involved with him despite the knowledge that he continued to see other girls.

January 8, Elvis celebrates his twenty-fourth birthday. Hawaiian DJ, Tom Moffett Calls Elvis Jan, 1959 (01:57) January 19,With other soldiers, Elvis donates blood at the Wartturm Barracks in Friedberg for the German Red Cross. In early February the Presley clan relocated to a three-story, five-bedroom house at Goethestrasse 14, which afforded everyone more space and privacy than the nearby Hotel Grunewald. For the exorbitant rent of $800 a month, it also provided them with a landlady named Frau Pieper who doubled as their housekeeper.
Blood donation
At last, Elvis was living in a home where he could relax away from prying eyes, listen to records, entertain friends, and sit at a piano to play and sing his favorite songs. He came home every day for lunch, and each evening he would spend time signing autographs for fans who waited patiently in front of the house. On Sundays he and some friends would play touch football just down the street.

February 5, Elvis learns of the deaths of Buddy Holly, Richie Valens and the 'Big Bopper' in a airplane crash and Tom Diskin wires condolences to the family on Elvis' behalf.

Amazingly, the last words Buddy said to Waylon Jennings, who had given up his seat to the 'Big Bopper', were jokingly, 'I hope your bus crashes' and Waylon's reply was 'Well I hope your plane crashes'. It took Waylon many years to be able to tell anyone of this.

February 7,Elvis attends the Holiday on Ice Show in Frankfort. He has become friendly with a number of the skaters and visits backstage.

February 13, Although Elvis didn't give any concerts in Germany, German teenagers idolized him and viewed him as a rebel. But local newspapers were not always among the King's most ardent fans. Under the headline 'Elvis the traffic obstacle' the daily Wetterauer Zeitung reported in February 1959 how Elvis had irresponsibly stopped his car in Friedberg's main street to give autographs to a crowd of young girls'. Thereby not only the traffic was severely disrupted, but the girls themselves were put in danger of being run over by passing cars...Only when two police officers intervened did the spectacle end', wrote an angry journalist. March 3, 1959, accompanied by friends Red West and Lamar Fike, Elvis used a three-day pass to visit Munich and call unannounced on Vera Tschechowa, an 18-year-old actress whom he'd met a few months earlier. Together, they visited the Moulin Rouge nightclub.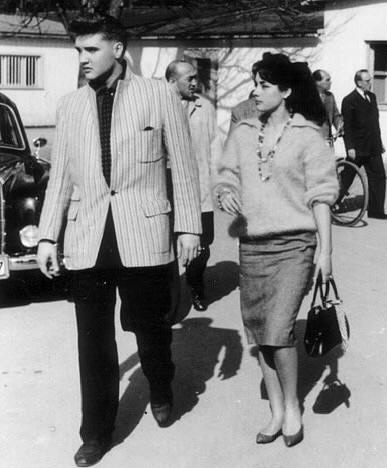 Elvis Presley & Vera Tschechowa - March 3, 1959
Elvis Presley & Vera Tschechowa - March 3, 1959
As usual, the press was on hand to photograph Elvis with his 'latest flame'.
In this case they also took numerous shots of him posing with the club's
showgirls, but all it really amounted to was a footloose and fancy-free young man having some fun.

March 4, Elvis and Vera visit the set of a Viking movie.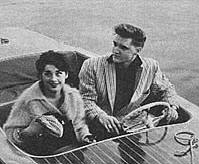 Vera Tschechowa. Munich
March 5,Elvis and Vera go for a boat ride at Lake Starnberg, and once again he returns to the Moulin Rouge nightclub that evening with Red and Lamar, to wrap up his three-day leave. March 26, Vernon and Elizabeth Stefaniak (Elvis secretary in Germany - who will eventually marry Rex Mansfield) are in an automobile accident on the Autobahn. Rumors spread that Elvis has been killed, even though he was not even in the car.

March 27, Elvis celebrates the halfway mark of his army stint with an Over the Hump party.


April 12, Open house at Elvis' barracks, in celebration of the eighteenth anniversary of the 3rd Armored Division. It is Elvis' job to drive visitors around the camp in a truck.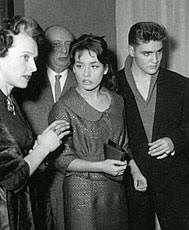 Vera Tshechowa
April 19, With Elvis in the army, and he and Colonel Parker were miles apart, the Colonel came up with another 'promotional idea'. In cooperation with a German

magazine, he gave four girls to win ' an afternoon with Elvis', and boy - they had the time of their life on April 19th 1959.

In June, Red West returns to the United States.

June 13, Elvis boards a train to Munich accompanied by Lamar Fike as well as his two army buddies Charlie Hodge and Rex Mansfield. During this fifteen-day furlough they visit both Munich and Paris.

June 15, Elvis and his entourage of three travel to Paris in a private train car.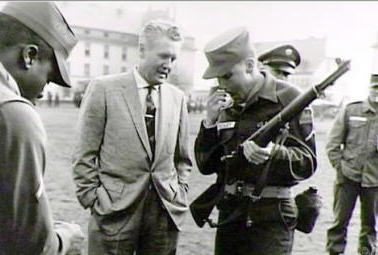 Vernon visited Elvis Army division 1959

June 17, Elvis gives a brief press conference in Paris. All in all, the Paris stopover was a live-by-night, sleep-by-day adventure.



June 27, in order to be able to stay in Paris up to the last minute, Elvis hires a limousine to get him back to the barracks. For photos of Elvis in Paris we recommend the book Elvis a Paris

.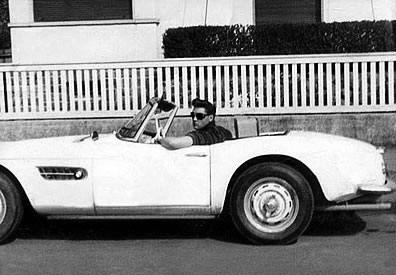 Elvis drives his white BMW
Elvis drives his BMW 507 in front Goethestrasse¿½e 14, in Bad Nauheim - June 1959

August 1959, Elvis swaps his white BMW 507 for a Red BMW 507.

August 15, U.S. Army Captain Paul Beaulieu, his wife, and their three children arrive in Wiesbaden, Germany, from their previous posting at Bergstrom Air Force base in Austin, Texas.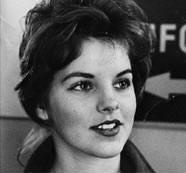 Priscilla Beaulieu
Sunday, September 13, Fourteen-year-old Priscilla Beaulieu had only recently been voted 'Queen of Del Valley Junior High' by her classmates in Austin, Texas, when 24-year-old Elvis Presley first met her on this day.

Much has been made of the fact that Priscilla was only 14 when the pair was introduced, but the young girl was mature for her age, and Elvis was mindful of the implications of the situation.
Top of Page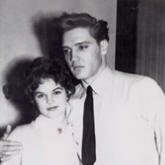 Priscilla & Elvis
Elvis spent the rest of that Sunday evening talking to Priscilla and, amid a room full of friends, even sang to her. It wasn't long before he asked Currie Grant to invite her back.

Soon Elvis and Priscilla began dating, and after Elvis met Priscilla's parents and convinced them that his intentions were honorable, they saw each other frequently during his last few months in West Germany. Because of Elvis' inability to go out in public unrecognized (and without creating a mob scene), most of his dates with Priscilla consisted of her visits to his house, where they were surrounded by Elvis' family members and friends. Although a relationship with someone so young could have had a ruinous effect on Elvis' image, there was surprisingly little publicity about his interest in Priscilla.


Elvis wasn't the only Presley to find a new love in Germany. His father, Vernon, met Dee Stanley while the Presley family was living in Bad Nauheim. At the time they met, Dee was in the process of divorcing her military husband. Dee returned to America with Vernon after Elvis' discharge, and the two were married in Huntsville, Alabama, in July 1960.

Elvis did not attend his father's wedding, which led to speculation that the marriage caused friction between the two men. (Elvis not only gained a stepmother, but he got three stepbrothers as well.)

December 25, Friday December 25th 1959, Elvis celebrated Christmas for the last time in Germany. He throws a Christmas party at Goethestrasse for family and friends. Elvis arranges to have a French poodle delivered to Anita Wood for Christmas and throws a party for family and friends. Priscilla Beaulieu gives Elvis a set of bongo drums.

Just prior to his return to America, in an interview in Germany for Armed Forces Radio and Television, Elvis was asked about being in the field rather than entertaining in a service club. His response was, '... I was in a funny position. Actually, that's the only way it could be. People were expecting me to mess up (laughs), to goof up in one way or another.

They thought I couldn't take it and so forth, and I was determined to go to any limits to prove otherwise, not only to the people who were wondering, but to myself' Rex Mansfield would latter marry Elisabeth Stefaniak, together they wrote the book, ' Sergeant Elvis Presley' in 2002. the U.S. Army logo to go tour Elvis Presley in the U.S. Army. Elvis Presley BMW 507 The U.S. Army Thoughts on Sergeant Presley from his Platoon Leader
'I simply cannot forget that Elvis chose to serve in a combat unit. If others want to argue that he did so because his agent, Colonel Tom Parker, thought it would be good for public relations' purposes, that's their opinion. But I don't believe it. Aside from the fact that our battalion could have gone to war with the Soviets at any time, there are real risks every single day in a combat unit. ... [Elvis] pulled his weight. He used his head and did his job well. He was one of us. He cared about us. And he got back the respect and friendship he gave everyone else. In several instances, I saw sparks of leadership in Elvis that made me think he could have induced men to follow him into combat, just as his music caused millions of young people to follow him'. - William J. Taylor, Jr., PhD, Colonel USA Retired.